So last Sunday night, I played my first professional gig.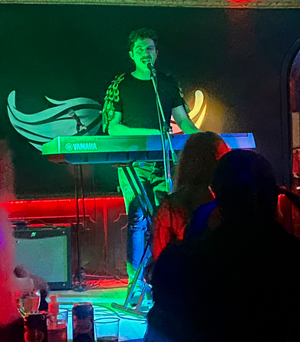 Omg. I was so nervous that I was literally one massive drop of sweat and stress. 
But... 
It.... 
Was... 
STUNNNIIINNNG!!! 
I am so happy with it and I've been booked for another bigger performance in February based on this gig!!!! 🤓🤓🤓
Do you want me to notify you by email when I've got new gigs and performances? If you sign up to my mailing list (click this link), I'll alert you by mail.

 
It feels like my music career is finally taking off. I could not have don't it, first and foremost, without sobriety. I'm 104 days without a drink today. 
About three weeks ago, I was feeling so overwhelmed and like there was a tornado in my head. I couldn't remember my songs and that ole friend of mine, doubt, was sitting on my shoulder. I remember putting my head down on my piano and repeating "i cant do this, i cant do this." 
It's only through the clarity of mind that comes with sobriety that I was able to pull myself together and say to myself "you HAVE TO find a way through this." 
In my uber drive to the venue on Sunday afternoon, i had to fight back the urge to vomit 🤮. I was so sick with anxiety. the trip there was expensive enough so i didn't fancy having to pay to clean this guy's car 🥴. At the soundcheck, I had no idea what I was doing. I just acted like I knew what I was doing. Someone asked me if I had a "DI cable" to which I casually replied ugh, sorry I left mine at home...and I then turned to the guy I was chatting to to ask him WTF a DI cable is. 
When the show began, the sound engineer bumped me up a slot without telling me, so I was rather shocked when he indicated to me that it's my turn to set up. FFFFFF******************!!!!!!! 
But what an experience. WHAT AN EXPERIENCE! The crowd went nuts for my set!! It was incredible to see so many people completely enraptured by my performance. My performance literally came alive and its soul danced for everyone. 
I was NOT expecting that. 
I played all my songs (and a new one -- join my mailing list to get notified when I release it 😇) and one cover. It taught me a valuable lesson about being true to yourself. When I think back to my early career and how hard I tried to make my music sound commercial and fit in with what someone else told me I had to sound like. They just didn't connect. Sunday night was a massive confidence boost for me that when i write songs that are meaningful to me, they connect with people. 
My next performance is online so that means you can all watch! It's at the Planet Noise music festival on the Sessions platform (stage 2) on 31 December at 19.30 (UK time). It's free of charge and you can get your ticket here. Please come through! I'd love to share that experience with you. 
After that, I'm booked for 3 February. And that's gonna be a big one. Seriously, come to london if you can! 😂 
What an amazing way to end of 2021 for me! I have a much clearer sense of what I need to do next year and I am going to give it my all. 
I hope you have a restful December and a wonderful 2022! I know the start to my new year is gonna be kick ass! 
Sibuor